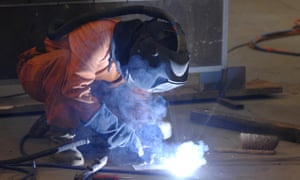 Britain's economy strengthened in the first three months of the year, with growth of 0.5% helped by unprecedented stockpiling by manufacturersfearful of the impact from a no-deal Brexit.
It was an improvement on 0.2% growth in the previous three months and was bolstered by the strongest quarterly performance for manufacturers since 1988, with factory output up 2.2%, according to the figures from the Office for National Statistics.
However, widespread uncertainty about the Brexit negotiations proved to have a greater impact in March as the services sector and construction sectors went into reverse to leave GDP down 0.1% month on month.
The downward trajectory through the first quarter suggested that consumers became increasingly jittery about the prospects for the UK economy as the Tory government's plan to push through a Brexit deal foundered.
The services sector, which accounts for more than three quarters of GDP, nudged ahead by 0.3% in the latest quarter, although all the uplift in activity was in January and February, while March registered a 0.1% fall. The construction sector was another area of the economy to provide a boost in the first two months of the year and a negative contribution in March.
Meanwhile, manufacturing increased by 1.5% in January, but by only 0.9% in March.
Net trade during the period proved to be negative, suggesting that much of the activity in the manufacturing sector involved higher imports of raw materials to increase stocks to cope with a disorderly Brexit.
Tej Parikh, a senior economist at the Institute of Directors, believes the strong three month figures could be "a flash in the pan".
He said: "Some businesses brought activity forward early this year in preparation for leaving the EU, so higher stocks and earlier orders have artificially bumped up the growth numbers.
"In the second quarter many firms will be keen to run down their Brexit caches, which will drag on economic growth."
The chancellor, Philip Hammond, said the first-quarter growth figures showed the UK economy was robust, with growth of 0.5% "benefiting every major sector".
He said: "The economy has grown for nine consecutive years, debt is falling, employment is at a record high and wages are rising at their fastest pace in over a decade.
"We're investing at records levels in our infrastructure and skills to boost productivity and wages, which will ensure that Britain is well-placed to seize the opportunities that lie ahead."
The Bank of England recently raised its forecast for GDP growth in 2019 based on a higher level of global GDP growth than expected at the beginning of the year, increasing it from 1.2% to 1.5%.
The European commission also took a more optimistic view, although it only raised its forecast by 0.1 percentage points to 1.3% this year.
As Brexit looms…
… The Guardian is here to help guide you through whatever lies ahead. More people are reading and supporting our independent, investigative reporting than ever before. And unlike many news organisations, we have chosen an approach that allows us to keep our journalism accessible to all, regardless of where they live or what they can afford.
The Guardian is editorially independent, meaning we set our own agenda. Our journalism is free from commercial bias and not influenced by billionaire owners, politicians or shareholders. No one edits our editor. No one steers our opinion. This is important as it enables us to give a voice to those less heard, challenge the powerful and hold them to account. It's what makes us different to so many others in the media, at a time when factual, honest reporting is critical.
Every contribution we receive from readers like you, big or small, goes directly into funding our journalism. This support enables us to keep working as we do – but we must maintain and build on it for every year to come.
["source=theguardian"]